Celebrating 30 Years of Excellence: The Education Network's Journey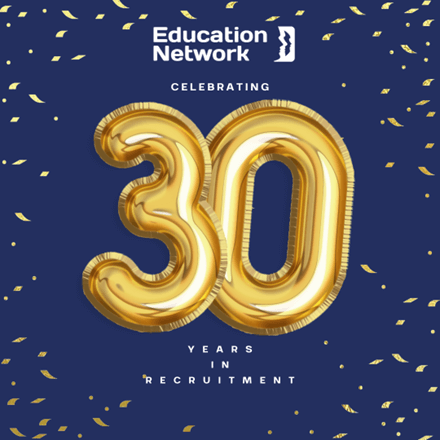 In this ever-evolving landscape of education, one thing remains constant…. The Education Network's commitment to excellence. We are ecstatic to be celebrating three remarkable decades of The Education Network providing teaching and support staff to local schools and supporting our local communities!
"At The Education Network we celebrate the impact we have at school level not just through our staffing solutions but through the community programmes that benefit our schools, families, and local community beyond the school gate.  Why is this awesome? Because it is driven by teams of amazing consultants who genuinely put people first and don't just talk about it.  I am proud to be part of this exceptional team."
Marie Quarterman – Managing Director, Birmingham
Since 1993 The Education Network has been a cornerstone in delivering temporary and permanent recruitment solutions for schools, never wavering on our impeccable standards and thorough APSCo compliance+ processes.
Now for the exciting part! We are delighted to announce that with our 30th birthday celebrations, we have launched our new branding that only strengthens and highlights our partnership with Pertemps Network Group. PNG celebrated their 60th year in business in 2021! Don't worry, our new look hasn't changed us, we are still the same Education Network that you know and love… just a little shinier!
"We are absolutely delighted to be celebrating our 30th birthday this year! Keep an eye out for all the valuable and exciting content our colleagues will be sharing. This includes the launch of our new website to showcase our continued commitment to delivering quality service to our candidates and clients in Education across the country. I love our new branding, it captures who we are, progressive, dynamic, and committed to maintaining our exemplary standards of service. "
Shaun Porter – Director, Newcastle  
Looking Back
Since opening our doors in 1993, we have had the privilege of working with some outstanding educators, schools and consultants. We would like to extend a heartfelt "Thank You" to everyone who has contributed to the continued success of The Education Network over the last 30 years!
A lot has changed since 1993. Here are a few of our favourites!
In 1993 Nokia released the first mobile with a QWERTY keyboard, now we all have the whole world at our fingertips.

Grunge was taking over fashion. A 29-year-old Marc Jacobs was wildly criticized for dressing modes in plaid shirts, Doc Martens and "granny dresses".  Has grunge made a comeback?
1993 the World Wide Web was released into public domain, all users had to do was launch a new program called a "browser". Can you imagine what we would do without the internet?!
Looking Forward
The Education Network look to continue providing outstanding services for our clients and candidates. Entrenching our position as a market leader in the education recruitment sector. Keeping up to date with the many changes and challenges that will impact the education sector.
Let's not forget about giving back! We will continue to provide support for our local schools and communities in the form of foodbank donations, volunteering, sports kits, resources, and much more.
Happy Birthday to The Education Network! We look and feel great at 30! Here's to the next 30 years of excellence.